Telavi, the capital of the Eastern province of Kakheti, is home to several of the region's world-famous wineries, art museums, castles and a theater highlighting folk singing and dancing. Telavi is located at the crossroad of the region and is an ideal place to stop for lunch or an excellent jumping-off point for two or three-day excursions.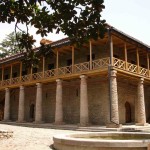 1. Giorgi Chubinashvili Telavi State History and Ethnography Museum
Founded in 1927, the Museum resides in several halls of King Erekle II's former Palace. The Museum houses King Erekle's belongings and numerous archeological, ethnographic, numismatic and textile artifacts.
Address: 1 Erekle II Avenue, Telavi
2. Cholokashvili Street
Cholokashvili Street is one of the most beautiful streets in the city, and has been recently renovated. The homes on this residential street are adorned with colorful gates and intricately carved balconies.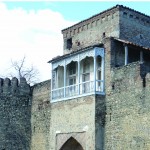 3. Batonis Tsikhe Castle
Batonis Tsikhe castle served as the residence of Kakhetian Kings between 17th and 18th century. The castle encloses two churches, the ruins of a royal bathhouse, and the Persian style Palace of King Erekle II.
Address: 1 Erekle II Avenue, Telavi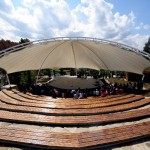 4. Nadikvari Park
Nadikvari Park is a wonderful place for leisure; you will find walking trails, beautiful nature, playgrounds, an open-air theater/concert arena and plenty of other attractions.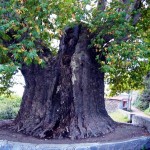 5. Giant Plane tree
The almost 900 year old Giant Plane tree is one of the oldest and most unusual attractions of the city.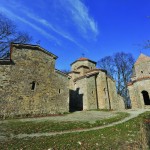 6. Old Shuamta
Old Shuamta, located 7 kilometers from Telavi, is one of the oldest preserved Orthodox churches in Georgia, dating back to the 5th century. The complex also incorporates two dome churches constructed in the 7th century.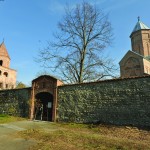 7. New Shuamta
New Shuamta Temple is located 6 kilometers from Telavi and dates back to the middle ages. The damaged temple was restored by King Erekle II during his reign. New Shuamta is an excellent example of the architectural style used in Kakheti during the middle ages.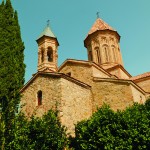 8. Ikalto
Ikalto Monastery complex is located 8 km to the north of Telavi. The complex incorporates three churches dating back to the 6th, 9th and 12th centuries.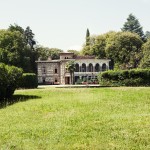 9. Alexandre Chavchavadze Museum
During the 19th century, the Tsinandali complex belonged to renowned Georgian poet and public figure Alexandre Chavchavadze. The complex consists of a beautiful garden with over 1,000 varieties of trees and plants from all over the world. Furthermore, within the premise there are wine cellars with unique collections of wines.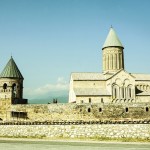 10. Monastery of Alaverdi
The earliest structures of the Alaverdi Monastery date back to the 6th century, although the present day cathedral is a part the 11th century Georgian Orthodox monastery. Alaverdi is located 18 kilometers from Telavi and is one of the tallest religious buildings in Georgia. The surrounding courtyard is home to vineyards from which local monks make their own wine. Location: village of Alaverdi